Welcome to Creekside Farm!
Indoor Board

Care:
Creekside Farm is commited to ensuring your horse thrives in our care. We offer board with bedding on either straw or shavings. Deep bedding on straw in the European tradition. We've found competition horses bedded on straw have less incidence of ulcer issues. For those who prefer their horses bedded on shavings we're happy to accomodate this as well.
At Creekside Farm Tribute Equine Essential K. We find and research supports this feed to be the best available on the market. The excellent guaranteed annalysis warrants the premium price and Tribute together with good quality hay fed four times daily results in a healthy happy horse. Additional supplements will be fed when provided by the client premeasured for daily feeding.
Horses are turned out daily for either full or half days weather dependent and blanketing (1 on/1 off) is included with your indoor board. All weather paddocks are used throughout the year and grass paddocks are maintained for good weather and are not over used. 
Facility:

• Bright 80'x200' indoor heated arena with Travel Right Footing recently upgraded by Footing First.

• 100'x220' outdoor sand ring.

• Large grass riding area with natural obstacles such as a devil's dyke, dry ditch, hedge and logs.

• Stalls ranging in size from 12'x10' to 12'x15' with rubber mats.

• 12 large grass paddocks used only in good weather.

• 16 wood and fence panel paddocks with all weather footing for poor weather.

• 4 stallion pens, 3 grass and 1 all weather.

• 2 indoor wash stalls, 5 grooming stalls.

• Large lockers for clients.

• Fields to ride out in.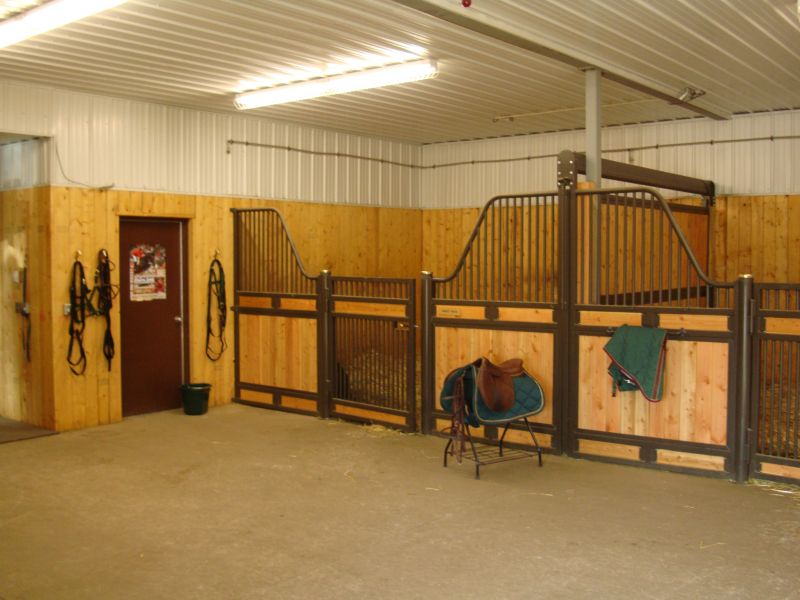 "No hour of life is wasted that is spent in the saddle."
- Winston Churchill -